Heist Brow Soap Collection 03
Afterpay
available during checkout.
Pay in 4 installments, interest-free with Zip
Treat yourself – this product comes with FREE delivery!
We have created a premium, all-inclusive brow styling bundle that seriously enhances and embellishes the eyebrows. Heist Collection 03 features both quality and quantity, including 5 high-end products. Make this collection your new favourite up-sell after your clients next pro salon service.
Ethically Sourced
Cruelty-Free
Paraben-Free
Share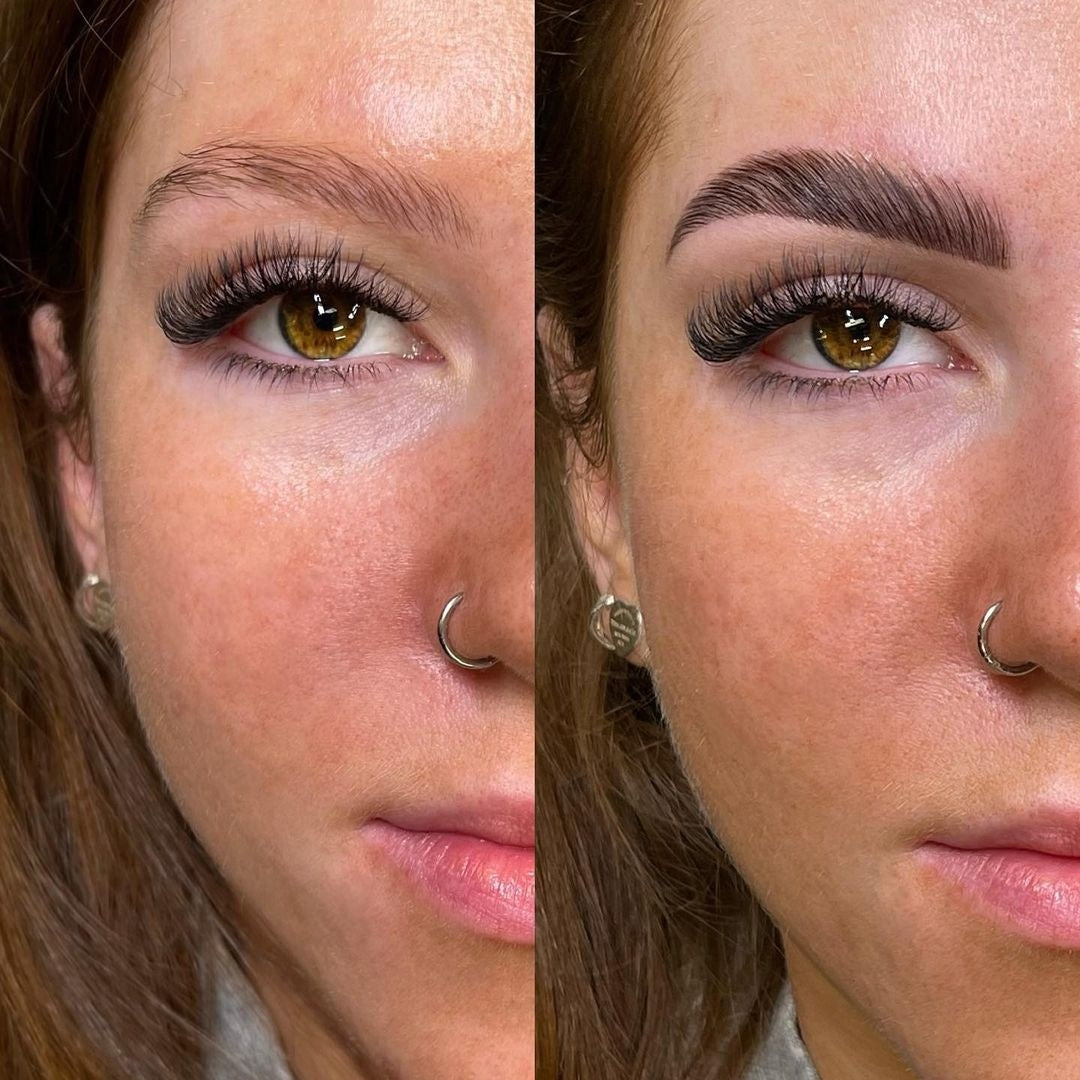 Product details

What it comes with:

Lustre Lamination Kit
Brow Tint Kit
Brow Wrap
Microwavable Brow Wax
Heist Brow Soap

Heist Collection 03 will leave the brows looking richly pigmented with a glossy, laminated finish. Lamination makes the brows more receptive to Tint, the Hot Wax helps to clean and shape, and the signature Heist Brow Soap locks in the style by firmly holding down the hairs.
Ingredients

Lustre Lamination Adhesive

Pvp/va Copolymer, Isopropyl Alcohol, Soluble Collagen, Aqua (water), Propylene Glycol, Hydrolyzed Silk.

Perming Solution

Aqua, Ethanolamine Thioglycolate, Cetearyl Alcohol, Ammonium Thioglycolate, Propylene Glycol, PEG-7 Glyceryl Cocoate, Sodium Lauryl Sulfate, Ceteareth-20, Ethanolamine, Parfum, Alpha-Isomethy Ionone, Citronellol, Hexyl Cinnamal, Limonene, Linalool.

Fixing Solution

Aqua, Cetearyl Alcohol, Hydrogen Peroxide, Peg-7 Glyceryl Cocoate, Sodium Lauryl Sulfate, Phosphoric Acid, Parfum, Acetaminophen, Hexyl Cinnamal, Linalool.

Microwavable Wax

CTFA, Glyceryl Rosinate, Hydrogenated Microcrystalline Wax, PEG-40 Hydrogernated Caster Oil, Beeswax, Paraffin, Ethylene/VA Copolymer, Titanium Dioxide, Mica, Tin Oxide, Fragrance, Mineral Oil, Red 6 Lake, Yellow 11.

Light Brown Tint

Aqua, Cetearyl Alcohol, Sodium Cetearyl Sulfate, Sodium Laureth Sulfate, Resorcinol, p-Phenylenediamine, m-Aminophenol, p-Aminophenol, CI 77499, CI 77491, CI 77492, Ammonia.

Natural Brown Tint

Aqua, Cetearyl Alcohol, p-Phenylenediamine, m-Aminophenol, Resorcinol, Sodium Laureth Sulfate, p-Aminophenol, Sodium Cetearyl Sulfate, CI 77499, CI 77491, CI 77492, Ammonia.

Cream Activator

Aqua, Cetearyl Alcohol, Ceteareth-20, Hydrogen Peroxide, Triethanolamine, Sodium Cetearyl Sulfate, Phosphoric Acid.

Keratin Nourish

Aqua (Water), C12-20 Acid Peg-8 Ester, Glycerin, Cetyl Alcohol, Argania Spinosa Oil (Argania Spinosa Kernel Oil), Caprylic/ Capric Triglyceride, Ricinus Communis Oil (Ricinus Communis (Castor) Seed Oil), Simmondsia Chinensis Oil (Simmondsia Chinensis (Jojoba) Seed Oil), Soluble Collagen, Panthenol, Tocopheryl Acetate, Hydrolyzed Keratin (Hydrolyzed Keratin), Hydrolyzed Silk, Phenoxyethanol, Imidazolidinyl Urea, Propylene Glycol, Tetrasodium Glutamate Diacetate, Ethylhexylglycerin, Cetrimonium Chloride, Citric Acid.

Brow Gold Oil

Argania Spinosa Kernel Oil, Ricinus Communis Seed Oil, Prunus Amygdalus Dulcis Oil, Crocus Sativus Flower Extract, Tocopheryl Acetate, Rosmarinus Officinalis Leaf Oil, Pelargonium Graveolens Flower Oil, Limonene, Citral, Geraniol, Citronellol, Benzyl Benzoate.

Heist Brow Soap

Water, Stearic Acid, Lauric Acid, Palmitic Acid, Glycerin, Sorbitol, Sucrose, Sodium Hydroxide, Cocamidopropyl Betaine, Propylene Glycol, Sodium Hyaluronate, Tetrasodium EDTA, Butyrospermum Parkii (Shea) Butter, Citric Acid, Theobroma Cacao (Cocoa) Extract, Curcuma Longa (Turmeric) Root Extract.
Directions
Preparation

Cleanse the brows before beginning any product application. Ensure they are free of any oil and debris.

Lamination Adhesive

Pro Tip: The Lamination Adhesive is only required for coarse, unruly brows that don't set easily. Skip to Perming Solution if not applicable.

Using a cotton tip, apply a light layer of adhesive across the brow base. Then use a brow comb to set the hairs in place at the preferred angle they wish to be laminated. (Comb through straight away as the adhesive will dry quickly).

Perming Solution and Brow Wrap

Apply a Perming Solution sachet with a cotton tip to both brows. (One sachet quantity suffices both eyebrows). Comb hairs up from the base using a Lamination Comb and set in the desired angle. Cut out a piece of Brow Wrap, place on top of the brows and leave covered. Leave to process as per the below Timing Guide:

Very Thin or Fine Brow Hairs: 5-7 minutes
Medium or Normal Brow Hairs: 7-8 minutes
Coarse or Stubborn Hairs: 8-9 minutes (No longer than 9 mins)

Remove

Peel off Brow Wrap slowly. Remove the Perming Solution using a cotton pad.

Fixing Solution and Re-Wrap

Apply a Fixing Solution sachet with a cotton tip to both brows. (One sachet quantity suffices both eyebrows). Do this in an upwards direction. Repeat Brow Wrap application as in previous steps. Leave to process as per Timing Guide in the previous step.

Remove

Peel off Brow Wrap slowly. Remove the fixing solution using a cotton pad.

Wax Eyebrow Shape

Microwave the brow wax for 60-80 seconds. Heat until melted to a creamy consistency. Stir the wax thoroughly with a spatula to obtain an even texture (remove lumps). Dip the end of the spatula in the brow wax and spread a layer on the skin, underlining the base of the brow. Wax should be applied in the hair growth direction. Let wax strip cool for 20 seconds. Slightly lift up the outer edge of the strip (ear-end) and strip off quickly, pulling in the opposite direction of hair growth.

Brow Tint

Follow all the steps as listed in the Brow Tint Kit application guide.

Pro Tip: Advise your clients that the lamination procedure completed prior will naturally make the eyebrows more receptive to the tint, speeding up the development process.

Lamination Keratin Nourish

Apply Keratin Nourish cream to both brows. (One sachet quantity suffices both brows). Use a clean Lamination Comb to evenly brush the product through the brows. This will ensure maximum nourishment.

Brow Aftercare & Daily Maintenance

The brows can take 24-48 hours to develop and cure post-treatment, which is why its important to keep the following precautions in mind:

Keep brows dry for 24 hours.
Do not apply makeup or undertake further eye treatments for 24 hours.
Avoid swimming/sauna/exercise or any activity that may cause excess moisture as this could curl or frizz the brow hair.
Do not allow prolonged exposure to direct sunlight or heat.
Do not apply Retin-A, AHA, or exfoliant around the brow area for 24 hours prior to and 24 hours after treatment.
If any stinging or swelling occurs, apply a cold compress to soothe and seek medical advice.




Advise your client that regular maintenance (advised daily) of the brows is crucial to ensure sustenance of the brow styling treatments.

A few droplets of our nourishing Brow Gold Oil should be applied to the brows daily to keep them healthy, moisturise and strengthened. Begin using after 24 hours of treatment.
For maintenance, each morning your clients' laminated brows will required styling and setting by the Heist Brow Soap.
Dampen a brow spoolie with water, rub bristle into soap and shape the brows upwards.